Chris Kroener
Lawn Care Technician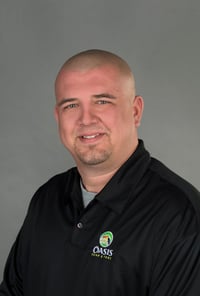 Having cut grass for 15 years, Chris Kroener has always loved lawns—and spending time outside. But he says that he's found a true passion by now being involved on the "agronomic side" and figuring out how to keep lawns looking green and lush.
"When you're cutting grass, you don't get to learn about the health of the turf," Chris says. "Now, it's what I enjoy most."
In fact, Chris says that he wants homeowners to know how much schooling and training the technicians at Oasis receive. Chris says that they're constantly advancing and increasing their knowledge with in-house training, community college courses, and more.
Not one to be cooped up, even when at home, Chris leans on his passion for the outdoors for entertainment, as well. He enjoys four-wheeling, fishing, and just spending time outside whenever he can.