Chance Prewitt
Master I Certified Turf & Tree Specialist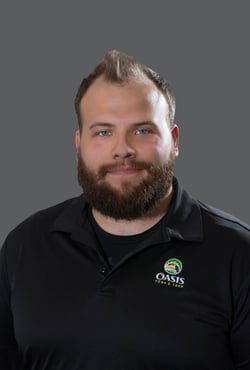 Chance Prewitt started a sales job fresh out of high school and has been in various sales roles over the years. He was drawn to Oasis Turf & Tree as a company that seemed different—one that really cared about and supported its people.
"Since coming to work here, I've learned the cultural environment really is as good as it appeared from the outside," Chance says. "It's a tight-knit group and honestly, it's the first place I've ever worked where I wake up and don't feel like I'm going to work. I actually look forward to it."
Chance says that customers should know that Oasis is not like other lawn care companies.
"Most lawn care companies lay off their staff in the off season but at Oasis, when winter comes, we're using that time to improve," Chance says. "We are taking equipment apart and maintaining it, studying and training, and staying on top of customers' questions."
Outside of work Chance says his free time is spent with his family, including his young son who is the "light of his life." He is also an avid gamer.