Brandon Neville
Licensed Lawn Technician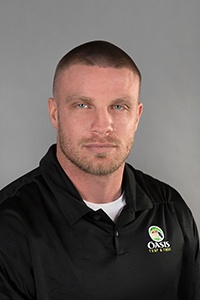 Brandon Neville is one of our Lawn Care Technicians and he is passionate about what he does. In fact, he says one of his favorite things about the job is getting to see the progress of his work. Brandon takes a lot of pride in helping make his clients' lawns the best that they can be. As someone who loves working outdoors and appreciates the environment, Brandon says it's easy to enjoy coming to work every day. He works hard and is proud of the lush green lawns he helps to grow and maintain.
Brandon says that if he could tell our customers any one thing about Oasis it would be that each and every one of our team members are putting forth their best effort when on the job. Brandon says that like him, the Oasis team is passionate about what they do every day.
In addition to taking pride in his work, Brandon admits he also takes a lot of pride in raising his family and is a devoted family man. When not spending his time making lawns green or hanging with his family, Brandon can be found fitting in a workout!
Certifications:
Ohio Department of Agriculture Applicator License