Alex VanTrease
Lawn Care Technician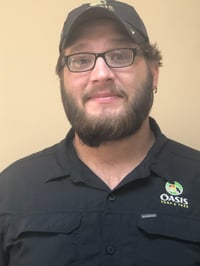 Alex says that he can trace his love of the outdoors back to working outside with his grandfather. Today he says that his favorite aspect of the job is getting to spend his days outside. He also appreciates that the technicians at Oasis genuinely care about lawns.
"We're not like other companies that just throw some fertilizer down and spray some product," Alex says. "We are performing professional assessments and making educated decisions based on what it needs."
Always one to be humble, Alex attributes his success at Oasis to the team and says he's "good at what he does thanks to the great team that supports him."
In fact, he calls them "family."
Though from Alabama, Alex moved to Ohio for his fiancée and says that he has fully embraced the area and happy to have found such a great place to spend his days.