Adam Hays
Lawn Care Technician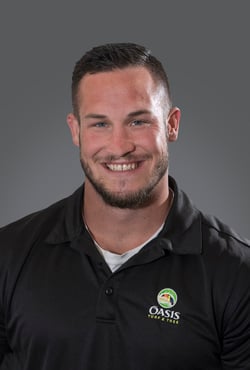 Having worked in the Green Industry previously, Adam Hays says he knew he loved working outdoors all day. When he came to Oasis Turf & Tree, he was looking for a team environment and a positive place to work. Adam says that what he found was a family.
One of his favorite aspects of working for Oasis is that the company truly values and invests in education—something that not only benefits the technicians, but the customers, too.
"Oasis is always encouraging us to learn more so that we have the knowledge we need to get our customers' the right answers when they have a problem," Adam says.
Outside of work, you'll find Adam doing one of two things—hunting or fishing. He loves spending time on his boat.
"As you can probably tell, I'm just not an indoors type of person," Adam laughs. "I love being outside—so this is the perfect career for me."